Products You May Like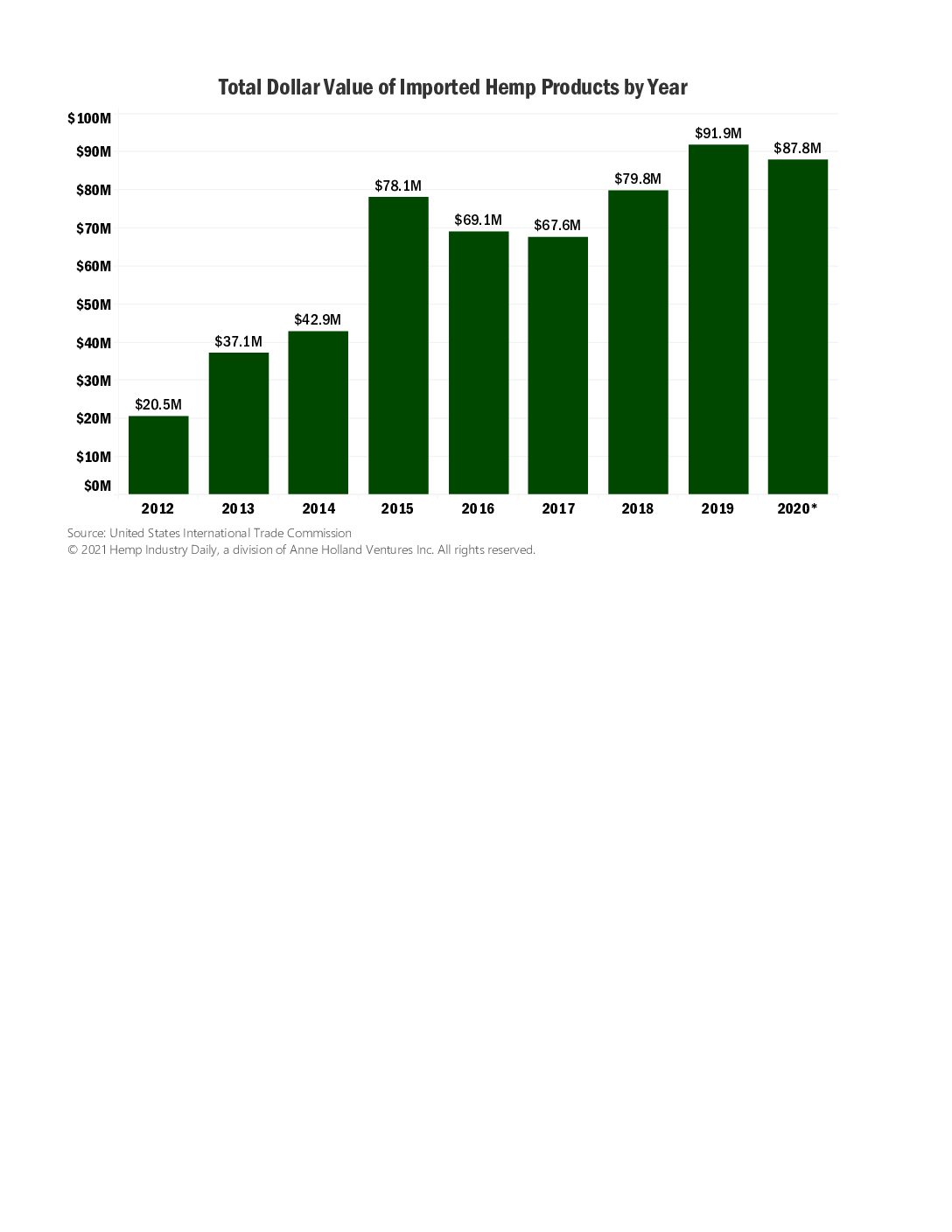 Hemp imports were cited as a main driver for Congress voting in 2014 to authorize limited experimentation with the crop after decades of head-scratching policies allowing hemp to be bought and sold in the United States — as long as it was grown somewhere else.
But hemp exports have grown dramatically ever since.
Hemp imports grew 82% in the first year after the passage of the 2014 Farm Bill, from $42.9 million in 2014 to $78.1 million in 2015.
Hemp imports continued to climb after hemp authorization was expanded four years later.
Last year the U.S. imported an estimated $87.8 million in hemp, according to the 2021 Hemp & CBD Factbook.
Non-CBD hemp imports into the United States grew by 10% in first 10 months of 2020, compared to the same period in 2019.
The value of incoming shipments of hempseed through October jumped nearly a quarter compared to 2019, while the value of raw hemp imports leaped by more than a third.
The 10-month values for these two categories exceeded the full-year values for 2019 and offset severe drops in the import of hempseed oil and oilcake in 2020.
According to the International Trade Commission, Canada remained the top source for hemp imports in 2020, supplying more than 85% of incoming non-CBD products in the 10 months ended October.
China, Romania, the Dominican Republic and Poland rounded out the top five countries delivering hemp fiber, textile and seed products to the United States during that period.
Compared to 2018, Lithuania, Germany and Bolivia were new entrants to the top 10 list of hemp-exporting countries in 2020.
More exclusive intelligence about the hemp industry is available in the Hemp & CBD Industry Factbook 2021 Edition. It's on sale here.